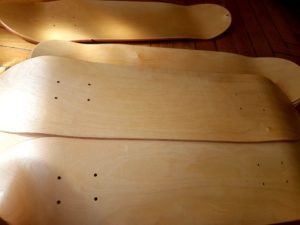 It's a great pleasure to finally finish a batch of production.
Our first 10 decks are out. Partially varnished and ready for the art. As we are set perfection to our main goal, we included a very nice red layer inside our deck… Love it.
We are really happy about the shape and how it reacts when we ride it. A very good first batch 😉
Our goal is to finish the art of the 10 decks before selling them. It will take time as all steps are hand-made and we don't keep any board that is not fully satisfying our standards. However already 3 decks are 100% finished and ready to be sold but one will have to wait a bit.
#1: Buddha – #2: Sugar skull – #3: Hawaiian flowers
Ride safe!